Shortstops in the homes of volunteers in the community
Providing a safe, supportive bed for the night for young people who are facing becoming homeless in Gloucestershire, in the home of a host volunteer
A young person in need of emergency accommodation will get a room of their own, an evening meal, breakfast, access to wash and laundry facilities and a friendly host.
What we do
Volunteer hosts open their homes to young homeless people facing a night on the streets or sleeping in an unsafe place. 
How we do it
Volunteer drivers ensure these young people get to a place of safety. Our Advice and Support Team assist the young person as they explore their housing options
The outcome
Shortstops are arranged on a Night-by-Night basis, a young person can stay for 1 night to several weeks, moving between hosts, giving themselves and partner agencies the opportunity to look for appropriate housing.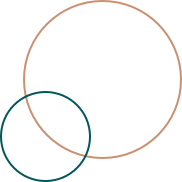 WHAT OUR YOUNG PEOPLE HAVE TO SAY
If you are really stuck on somewhere to go safe for the night just get in touch with Nightstop. They are really kind and friendly there and tell you off when you need it, they take you on under their wings. It is a safe place for people to go off the streets, makes you feel safe.
Having someone else to talk to and being able to turn to people who understood or might have been in the same situation.
They were very supportive and helped me a lot. They obviously made sure that I had somewhere to stay, and then kept checking in on me to make sure that it was going well with everything
I've got my own house now, that I pay for, it's a house share but I pay around £700 a month, as obviously I've got a job now, so I've been living there for about five months now, before that I was living with my mates Nan and Grandad, they helped me and I paid them rent. I stayed with them for about six months, but obviously now that I've got a job again, a decent job, I can live by myself.
They can help more than you think
Give it a try because I was like you at the start very scared. But it was great.
Staff are very supportive and treat everyone equally
They can help straight away, support you and they make you feel safe.
Thank you for all the help, Thank you for all the support
She was there for me whenever I needed someone to talk to, helped me register with the doctors.
Nightstop helped build my confidence up and helped my self esteem.
When I was homeless, I was in a low place but now I've come back kicking and screaming and stronger than I was before
They accepted me into their family, gave me hope as I had nowhere else to go, I will think back on it when I am older as it was the happiest, I felt in 9 years
M did a really good job of making me feel welcome, she made meals for me and was understanding
Could you be a host?
If you have a spare room and want to help young homeless people, you could be a host. We provide full training, support and expenses for hosting. 
"Nightstop is a community response to a problem which is all too common in our community. This unique service is made possible by the generosity of inspirational people with a spare room and a desire to make a difference in a young person's life." 
– Sir Trevor McDonald, President of Depaul UK
WHAT OUR HOSTS HAVE TO SAY
It's a really lovely way of giving something back, We're only doing a teeny tiny bit to help and there's so many people who need help and it's a really important thing to do if you have the space to do it. 
It is an honour to be able to provide an evening or two under my roof for these vulnerable young men. All of my visitors have enriched my understanding. A few have left me feeling uplifted by their visit. One was so full of humour and fun that he raised me out of a black mood. He has since gone on to work as a carer, where I'm sure he is doing a fantastic job.
There's a very fine line between a young person who is doing ok and a young person who isn't and it could just pivot on 1 friend or 1 incident and start a downward spiral and it felt like Nightstop was able to interrupt that spiral. 
"Everything was great for our first hosting evening, The young person was so polite and actually made us feel relaxed. We were very pleased to have him. He even made the bed! It was a lovely experience"
1st night was quiet, you don't know the young person and they don't know you. You get up the next morning and ask them how they slept, how they feel and the one thing that does come across 9 times out of 10 is that "I feel safe."
I think its a nice thing, quite a few of these young people still keep in touch, so you do have a friend as well, which I think is good.  
It can vary, sometimes they stay for a couple of months, the current young person I have with me now has been with me 2 years and the transformation has been amazing. Has been forced out of their home by their parents ended up sofa sleeping after sleeping rough on the streets so he was very wary of people, so initially it was some what difficult, but as time goes by you get to understand how their mind works and things like. He went from someone who was very antisocial to someone who is now working and will hopefully, in the next couple of months, move on. 
It keeps me alive if you know what I mean, It keeps me in touch with what's going, it forces me to do things I wouldn't normally do, we go on long walks, we go to concerts, we go to theatres, things in the past I probably wouldn't have done. 
My experience as a host is good. I am well supported by the team and I know the checks are thorough and risks are made minimal due to ensure mine and Kara's safety. I like that you try to match hosts to guests that would best suit their life styles. Also that I'm under no pressure to host and can have breaks when needed, plus no guilt for when I'm not available to host.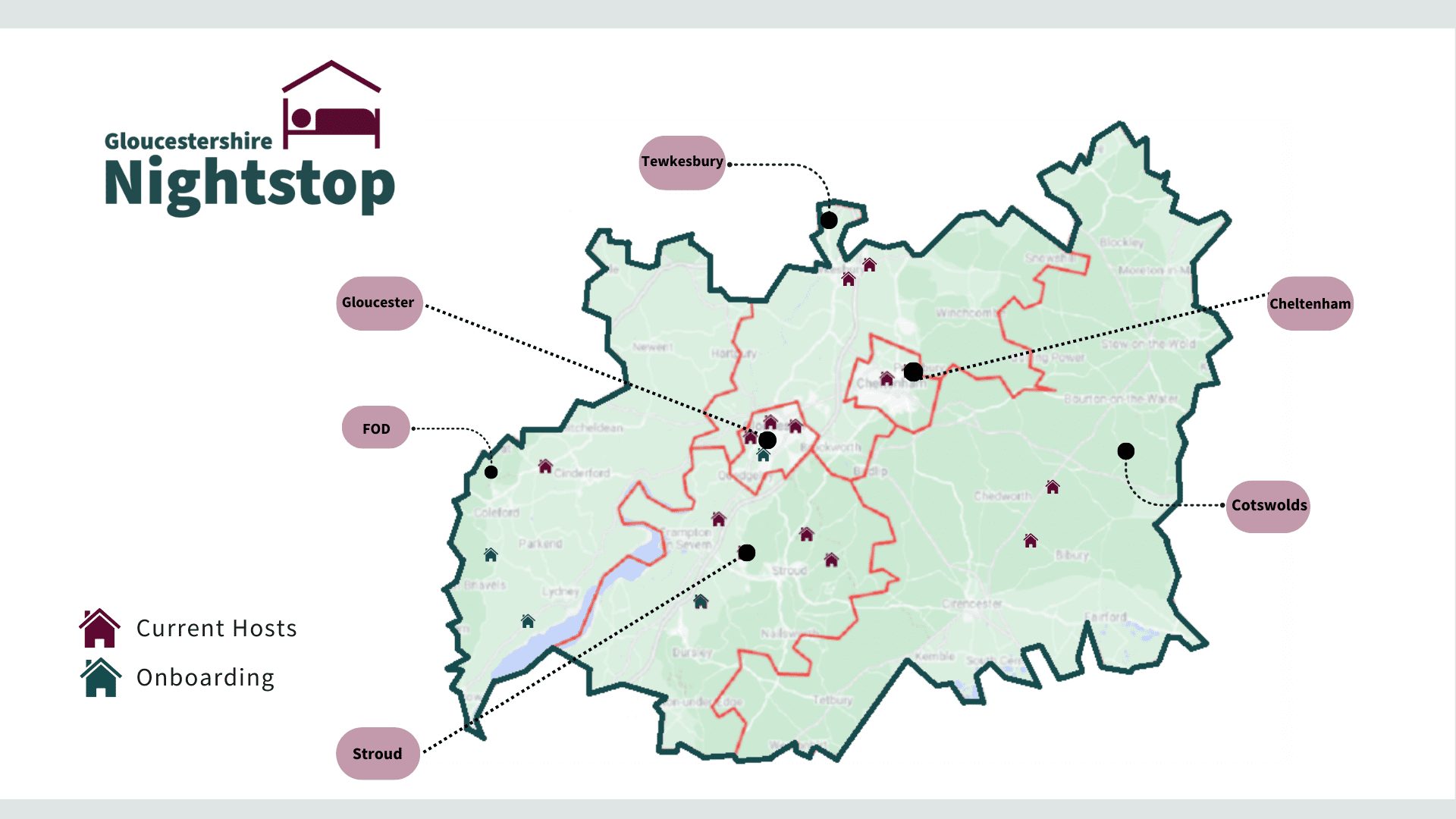 Where are our Host Homes?
In instances where a young person in Gloucestershire is confronted with the prospect of homelessness, our utmost commitment is to address their needs while preserving their social framework. We strive to keep them within their local community whenever feasible, minimizing any disruptions to their work or education as they navigate their housing requirements.